I am trying to use the JSON HTML integration which is working well on some files but failing with an unhelpful error on others which prevent the file from being imported.
These are all standard JSON files in the same format as the ones that work but they fail to import with the following error: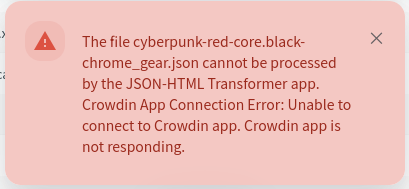 Example file that works:
Example file that does not work:
The errors are not limited to this file and effect 8 of the files in my project but apparently new forum users can only have 2 links in their post. All files are valid JSON and all contain valid HTML in the description keys as far as I can tell.
I'm currently working in a test project before using this in the main project, you can find the test project here: crowdin com / project/testy-mctesterson