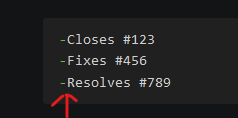 Should be - Closes #123 for example.
Both of these issues can be observed at this URL.
https://lizardbyte--261.org.readthedocs.build/en/261/developers/contributing.html?lng=en
Hi there!
Could you please contact us at support@crowdin.com with the project name and url to the string from the Editor so that we could investigate it from our side?
I found another example on a different site, using a different CrowdIn project.

Source website: LizardByte | Support
CrowdIn project: "LizardByte"
Hi @ReenigneArcher ,
As far as I can see there is a ticket via email, a conversation with our team via email and my colleague created a task for our developers to investigate. So as soon as we have any updates we will notify you via email
I don't think it makes sense to continue on the forum if there is an open ticket at the email
Bump (haven't received any update via email)
Apologies for the delay in response. We're still investigating your case. I assure you that we're working on it and will get back to you as soon as we have any updates.