Hello everyone,
I've been using the free plan for almost a year now. We find that currently, it is sufficient for our needs. We set up CLI integration for file uploads, and it's been working great.
Last week, when I tried to upload a new source file, I received an error:
"index.mdx" file was skipped. The number of unique file formats for the current subscription plan exceeded.

My project already contains *.mdx, *.md, and *.json files. The plans and pricing page shows that I'm using three file formats in "advanced features", which are included under the free plan.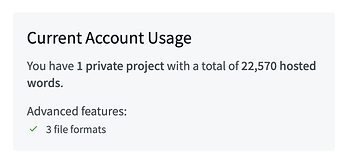 Why can I not add a new file using the .mdx format, even if my project has already included files with this format for nine months?
Thanks.